Flower Power
Earth laughs in flowers.
~Ralph Waldo Emerson, "Hamatreya"
I'd rather have flowers on my table than diamonds on my neck.
~Emma Goldman
When you have only two pennies left in the world, buy a loaf of bread with one, and a flower with the other.
~Chinese Proverb
How can you not be happy when you are knitting flowers?! I've been walking on sunshine (or is it knitting sunshine?) the past few days knitting these. I wanted to keep this project a secret, because there is really no thrill in seeing a droopy unfelted, crappy looking flower. But the finished product is amazing. The first one I did isn't that great, but once you get the hang of it, they are super easy! So, now I can tell you my plans for these flowers... My goal is to make a large bouquet of about 12 flowers and send them to someone really special for their birthday. I am going to make some red tulips, calla lillies, and iris's as well, and see how I like them all together. If I am not happy with that, I might just go back and make a few more of these daffodils and just send calla lillies and daffodils. Either way, plan on seeing a few more bouquets in the near future.
And of course, for the project details... I found these patterns in my LYS. The patterns are from
Pick Up Sticks
and are extremely easy (though they look intimidating at first because the pattern is super, super detailed). I used size 10 DPN's and Cascade 220 in various shades that I had leftover from other projects (that is the size needle and the yarn they recommend). I have to say, I love Cascade 220 and have used it on a few other projects. The color selection is phenomenal and it felts very easily. The only changes I made were some of the finishing techniques.
So, that's it for today folks! I have a few skeins of Gryffindor yarn in the works and have yet to knit up a swatch of the one skein that IS dry. I also wanted to have some more fun with my leftover green and purple dye and so I made an all striped version of the Grapevine colorway. Oh okay, you can't wait to see it... Here is the one skein I have wound up already!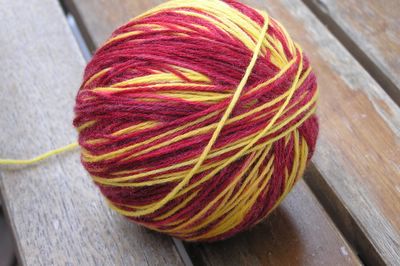 I am super happy with how the colors came out on this one. Like most of the other yarns I've dyed, this colorway is for sale too. I'll post a swatch tomorrow so we can all see how it knits up. But if you are really interested in purchasing this, please email me. I was planning on selling some on ebay, but I am also willing to take specific orders for any colorway you've seen on this blog so far. I'll also take personal requests too :) Have a great Friday night everyone...