Sunshiney
I love making up words, hence the title of my post.. but, I just couldn't resist because I made a bunch of notecards yesterday and they were very "sunshiney". I bought this great new stamp and some coloring pens and "got creative". There are five different sayings I came up with, but my favorite is: purl the day away.
Johanna
seemed to like that one too :) Go check out the gorgeous sweater she is making and say hello!
I did some more dyeing the last few days including the custom order, Green Bay Packers yarn. I was happy with how it came out, though I still can't seem to get a really rich dark forest green. I think this green is perfect for the Packers though :)
I did realize that a few of the dyeing issues I have been having off and on are due to the Knitpicks yarn I use. I did another custom order with a special request yarn.. Henry's Attic Kona superwash fingering weight yarn. Oh man, I wish it were economical for me to use this yarn all the time. It was 580 yds of pure beauty and held the colors perfectly! I will be using this yarn in the future if I actually dye up some sock yarn for myself. Speaking of which, I wonder if my dad would wear Broncos socks?! I can get the yarn for about $11 per skein, but you have enough for two pairs of socks.. Unfortunately, that would cost about $30 dollars to sell, and though it looks like a lot of money, at least you have way more yarn (and its superwash to boot). So, if anyone is interested in this, I am totally willing to custom order with this in the future since it was a pure pleasure to work with.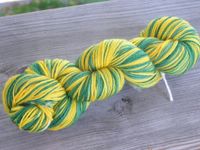 And last but not least, the camisole is getting there as I am finally at the armholes! I should finish this week, so come back this weekend and check out some FO's!