This And That
I feel all over the place today. Lots of little things to do, but no organization over here. Need buttons, need to stop at Staples, catfood? Nope, bought catfood last week. Ah, yes, food for us! I forgot about that..
This is how my day is going so far. No wonder. Its a hard day for all of us and I just keep on thinking back to five years ago. I was still a junior in college and heading to class when I heard to news. Only an hours drive away.. chaos. I still remember seeing the smoke. Man, its crazy to think about how much has changed in five years. I've been through grad. school, my first job, a new business. Its pretty crazy, but a good time to reflect.
Yes, knitting. I still need buttons for a finished Sirdar baby sweater (which is on my list of things to do today), so you should see that soon. But, alas! Something super cute! The baby bolero from
One Skein
: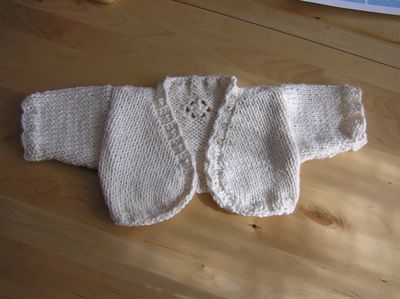 The bolero is for a friend that is due ANYDAY! I'm dropping it off for her tonight so that she can get some good use out of it these next couple of weeks :)
Pattern:
Baby Bolero from
One Skein
Yarn:
Blue Sky Organic Cotton in color #80 natural
Measurements:
Newborn
Started:
September 8, 2006
Finished:
September 9, 2006
Other Details:
Super cute and quick! Will definitely be making more of these in the future :)
I also started a new pair of socks a couple weeks ago and forgot to post about them until now :) I finished the first one a few nights ago and love how they are turning out. I'm using my own yarn in the
Paradise colorway
... ahh, fall, such a wonderful time for handknit socks...
Oh, and I almost forgot!!! Go check out my store tomorrow, Sept. 12, for my 1 year celebration. Free goodies with every order!!!