No Cold Wrists Here
The three pairs of wrist warmers are finally complete! I worked on these guys in little bits here and there.. from Montana and Wyoming, to Colorado and of course, Boston. They really got to see the sights I tell you! These projects really made me fall in love with Cash Iroha. I now think why in the hell did I not use this yarn for my Hourglass sweater?! It is truely divine.
I just finished up the dark teal/blue pair the other day. These have yet to be gifted, but will be heading down to PA with us on our next trip.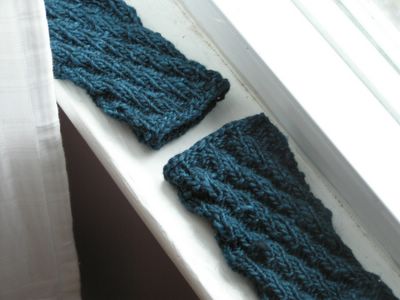 You may recognize these pictures below from a while back, but here are the other two pairs. The garnet ones were given to my cousin Rachel for Chanukkah. They were mostly knit while in Montana and Wyoming. The lovely green pair went to one of my best friends in Colorado, along with the Midwest Moonlight Scarf.
And the project specs:
Pattern:
Wrist warmers from
Last Minute Knitted Gifts
by Joelle Hoverson
Yarn:
Noro Cash Iroha in #81, #22 and #55.
Measurements:
About 6.5" around and 6.5"
Started:
October 25, 2005
Finished:
January 3, 2006
Other Details:
These are super cute.... and quick! You could probably knit a pair in about three hours. I used a US 6, 40" circular needle and did the Magic Loop Method for all three pairs. If (I should say when) I make a pair for myself, I might go with two skeins of yarn and add on another repeat so they cover more of my arm.